Planning for the San Blas Archipelago
We have been staying in Colombia for three weeks by now.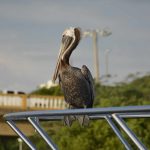 Our last week we have been docked at Club Pesca just north of Club Nautico. We really wish to recommend this private marina which has excellent security and friendly staff. Actually, the guards were packing that is, carrying guns. Whether this is beacause high criminality or just the way it is in this country, we never figured out.
Anyway, we have finally got all our papers from our agent for leaving the country. Totally, it was not as expensive as we have feared. The total sum we paid for in and out clearance went up to approx. 150 US dollar. Our agent, David Arroyo Romero took care of us nicely. In our Zarpe (the clearance document) it is stated that we go to Isla Porvenir in Panama for the next port of clearance.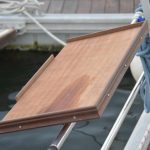 Currently we are doing the necessary shopping and fixing a few things before we leave. Among other things we are mounting a board for cleaning fish we hope to catch. We got the idea for such a board from the movie "Adrift". A very clever solution we immediately took on. We have ordered NOA holders for the board from Hjertmans in Sweden as well as a reducing valve for our propane tank. No problems with the NOA holders but we got the wrong valve due to that Hjertmans unfortunately had mixed up the article numbers on their web page. The cost for the shipment from Sweden was 120 US dollar.
Moreover, the autopilot has been calibrated for the Southern hemisphere and our extra 25 kg log anchor, well super anchor, we have carried all the way from Sweden has been looked over and is ready for use. It was a gift from a sailing friend who is not among us anymore.
It is still the rainy season, until November, in Panama and why we simply wish to move on, we just have to cope with all the rain they say we will encounter. Possibly the real annoyance will be the thunderstorms with strong winds that will hit us from SouthEast. Up to 45 – 60 knots some people say, thankfully during short periods of time. We'll see. Provided we get a good holding for our anchor, we do not expect any major problems. We can always seek shelter in Shelter Bay Marina if the weather turns out to be disappointing.