Header, Tobago Keys
Before Trinidad
Time to move on with our story.
After our arrival to Grenada in late January, months have passed and June has arrived.
We awaited our daughter Jessica's arrival moored in Prickly Bay while at the same time took care of some maintenance work necessary after our Atlantic crossing. Immediate after our arrival we first needed to check into the country which was fairly simple when both immigration and customs has an office there. What took a surprisingly long time was all the extra such as getting local currency, find a god supermarket and collect information about a million other, important, matters we wished to know about. All this took a couple of days. And of course we were pleased to look back at sixteen lovely days and nights at the Atlantic Ocean where everything worked out the way it should. We really enjoyed the journey.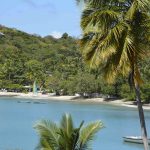 Prickly Bay is a place many have told us about. It's fairly sheltered, there is a chandlery, a restaurant and a lot of yachts and is of course a safe place to be. However, it was very crowded when we arrived which is not our cup of tea really. The water quality was not that good either and the visibility was only between 1-2 meters. We were reluctant to use our water maker which again worked after we had received spare parts from EchoTech in Trinidad.
The most positive part in Prickly Bay was all the nice and experienced sailors from various parts of the world, Sweden included, we joined with. It was comfortable to just relax for some days even if it rained every day. Actually it rained almost every day for a month, that is, the whole of February. Everyone we talked to said that this was very unusual for that time of the year. On top of the rain there were also strong winds which prevented us from leisure sailing in the neighborhood. In late February the weather was somewhat better and we took of for islands further north with Jessica at the helm.
We went all the way up to Tobago keys where we swam with
turtles. We had good luck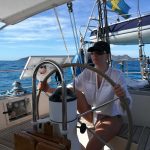 with the weather while anchoring in the keys. We did an attempt to go further north but the head wind was to strong for the sailing to be pleasant while we instead went south again to Chatham Bay on Union Island. The bay is very sheltered and we really enjoyed our stay. When the bay is far from the check-in office we were happy that one of the restaurant owners acted as an agent for the Authorities on the island. It is of course needless to
say that sailing between the islands, between different countries, requires a lot of check-outs and check-ins. At anchor in Chatham Bay we went uphill one day and got some nice pictures vith a great view.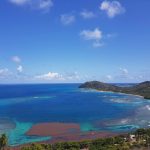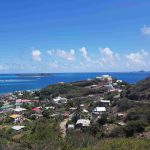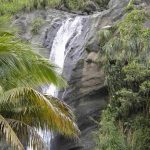 Back in Grenada we hired a taxi for a tour to one of the many waterfalls on Grenada where a nice surprised was the ride up the mountain through the jungle. A lot of birds and many unknown plants. On our way down the mountain, I picked, or rather Jessica did with the support from the taxi driver, a cacao fruit ready for chocolate making. My plan was to make a small chocolate bar but unfortunately I waited to long and the fruit become bad. A pity when I had downloaded all I needed to know from the net.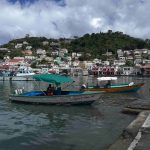 After the nice stay with Jessica it was time for us to get back to Sweden. Karin for work and for me support, and other business… being retired from work. Peach was safely moored at the Grenada Yacht Club while being away. We have no problems with recommending the Yacht Club to others. Good security, nice staff and decent prices.
Trinidad
When we got back to Grenada from Sweden we started to prepare for the journey to Trinidad where we had planned to get a new forestay and visit EchoTech to buy some spare parts. The planning involved to inform the coast guard in a float plan describing our ETD, ETA and course. The reason for this was to let the coast guard know our position if we are unlucky to encounter criminals or thieves.
We arrived to Trinidad after approx. 17 hours of sailing and no criminals in sight which was a relief of course. All sailors are not that lucky. Terrible that such precautions must be taken.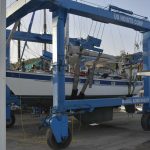 Currently we are moored at Powerboat Marina and have got our new forestay in place by Jonas and his company Trinidad Rigging. For all of you who wish a rigging expert we strongly recommend Jonas to help you out with any rigging problems you might have. We have also left our sails in the hands of Superb Sails located at Powerboat marina for maintenance.  They have a good reputation although we are still waiting for our sails to be returned but are having no doubts that their work will be anything but good. We also had Peach hauled out for a day to replace an inlet manifold to a bigger one and to clean the hull.
Before we leave Trinidad we have planned for a "turtle egg-laying" tour which we are looking forward to. Trinidad is known for having the largest population of returning turtles.
To the right you see a photo from the egg-laying in progress. Our turtle can deposit 100-120 eggs of which abut 80 eggs are fertilized and about 30 eggs unfertilized. If you click on the picture to the right you access a short movie taken of the egg-laying process .
We have also met a bunch of really nice sailing friends and have learned about different kind of activities e.g. from the net, VHF channel 68, at 08.0Turtle-viewing_Trinidad_20180 every morning, superb service.
Next step?
Our next step is to take off for the ABC Islands with a detour via Grenada to minimize the risk for a criminal boarding party along the Venezuelan coast. We cross our fingers and we'll let you know how it goes.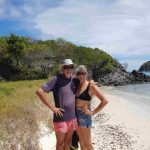 And by the way, the Swedish Midsummer on 22 June (Midsommarafton) will take place on Friday next week. We might be under sail and that's ok. Christmas was also under sail. Besides, we have neither herring nor snaps, the very important Midsummer attributes, so we might as well be at sea. We wish you all a lovely Midsummer with nice weather, good food and drinks and a lot of fun…with singing the Swedish song "små grodorna", why not?!