We left the quarantine Hotel in a good mood, looking forward getting to Peach which had been moved to the Boat Works work area from her hardstand experience for more than a year. It was a nice feeling being onboard again although still on land…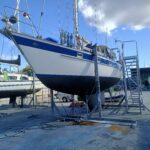 Finally on Peach we faced a lot of work to be done. Cleaning, antifouling, change of injectors, batteries and of course a "boatload…" of other small issues that needed to be fixed plus installing a brand new windlass. Finally we were able to anchor with a smile. We worked really hard for two weeks and at last she looked that she was ready for the sea again. We were of course wrong but did not fully understand that at the time. We were lucky to get in contact with Joe who does all kinds of work on boats in the area.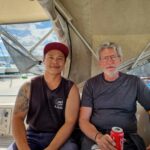 Joe took care of the antifouling and polished Peach to the extent sunglasses were needed to look at her and all to a decent cost. If you are in the area with needs just give him a ring on 0431104372.
When in the water again we anchored in the Coomera River a couple of days just to be sure she behaved properly and had no problems staying afloat. Our plan was to sail nonstop to Airlie Beach, approx. 600 nm up the coast. The AIS was not yet 100% reliable and a warning message turned up on the plotter display every 5th second but we were receiving and others had said that we also transmitted our position despite the noisy messages. We actually felt the need for a therapist after a couple of days. Our plan was to fix the problem in Airlie Beach.
We set sail and left Southport during the afternoon a Monday with a wind of 18 knots from southeast. A good sailing during the night up north. After about 24 hours we decided to anchor and picked Tin Cap Bay/Pelican Bay, south of Frazer Island, as the spot. At that moment we had no wind and sunshine.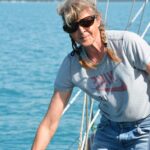 To get to the bay we had to pass a large sandbank and all looked great and "no worries" as they say here. Unfortunately the wind increased to 20 knots under our approach and there was no escape. Immediately huge breaking waves came from behind and from nowhere. We managed two slide through 2 big one's but we didn´t escape the third one. It came down over Peach and us. We probable got a couple of busloads of water in the cockpit, and over us and with one hatch open we managed to get seawater in the galley and on the cabin sole. We estimated at least 30 cm of seawater in the cockpit which luckily disappeared quickly through the self-bailers. We spent a day in pelican Bay, not directly relaxing, but instead taking care of the effects from the breaking wave. Since the major reason for going into the Bay was to try to fix the AIS which was unsuccessful, the adventure could have been avoided…
For leaving Pelican Bay there are two options. To go west of Frazier Island, through Sandy Strait, or to go on the outside which was much longer but perhaps safer due to the strong tidal current and the sandbanks on the west side of the Island. We were wrong! We started at 06.00 am, went for the outside of the Island and all was great until we barely had passed the Island and the long reef north of the Island when the wind picked up and the night came upon us. It was pitch black and the squalls started to arrive, one after another which resulted in headwind, heavy rain and 24-28 knots for the rest of the night. Our Bimini turned into trash and our autopilot gave up. Two 8 mm bolts holding the stainless plate for the pilot, attached to the quadrant, had cracked and the only remaining option was to hand steer, accept a helping hand from the engine and turn west for the mainland. Unfortunately we had 50 nm to go. After a long time and a lot of hard work for the two of us we reached Bustard bay at 02.00 am the following night and could finally rest. The expected normal passage around Frazier Island became a terrible event in total lasting for about 36 hours. Later we became aware of that the Marine Rescue as well as the coast guard had tried to contact us to check if we were ok. The problem was that they tried our mobile phone which of course did not have coverage that far out. Anyway, we contacted the Authorities and let them know all was ok and thanked them for keeping an eye on us. It is a safe feeling to have Marine Rescue as well as the Coast Guard looking out for Mariners and prepared to give a helping hand if necessary. We also got the tip from visiting Border Police at Gladstone Marina to change the mobile provider from Vodafone to Testra which has better coverage further north.
After Bustard Bay we had a lazy sailing for 20 nm to Pancake Creek where we dropped anchor and had a lovely evening. We also noticed that the weather had improved. A little warmer and, at least what people said, calmer winds the further up north we come. True indeed! We sailed on to Gladstone after Pancake Creek which was only 25 nm. Finally in Gladstone Marina it was time to repair the autopilot, check on the water-maker, do some laundry, repair the Bimini, take care of a leakage at the rudder seal and of course remove all traces of seawater in Peach.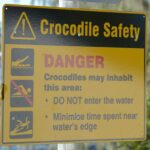 In Gladstone we came realized that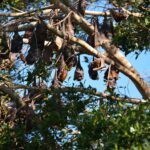 Australia has a wildlife that differs from back home. For the first time on the continent we faced the danger with crocodiles and actually came upon thousands of flying foxes resting in the trees just where the Marina was.
We still had 280 nm to go before we berth in Airlie Beach.
From Gladstone after everything, well, except for the AIS, has been repaired we set sail for Airlie Beach again. We took the long way up the North Channel and went around Curtis Island. No drama this time and we soon had to lower the sails and turn on the engine. No wind at all. We moved on through the night, passed Keppler Islands and Mackay to finally anchor south of Whitsunday Islands at Shaw Island at 2 pm and had a nice afternoon and evening. The day after we took on the remaining 20 nm to Airlie Beach where we currently have a berth at Coral Sea Marina. We plan to stay here a week or two before we move on to Cairns and true tropical weather.