27th of April – 29th of April
At last we have arrived in Australia despite the covid-19 and the fact that the Australian border still is closed. The trick was to apply for an exemption which was granted. We got back to Australia with a delay of one year and one month. We have also applied for an exemption from the quarantine but that request was unfortunately not granted so……
…….currently we are quarantined for 14 days at Crowne Plaza close to where we have Peach, approx. 30 kilometers from the Boat works Marina. When arriving at the Airport we knew that we would be quarantined but we had no information on what kind of living we would face, a room or an apartment or whatever. Nor did we know the location. Circumstances around the quarantine were also uncertain about food, beverages, costs, smoking etc. Information of the cost was given to us after check-in set by the responsible Authority. Anyway, the conditions for our quarantine turned out to be a large room with shower as well as bathtub and a lovely balcony.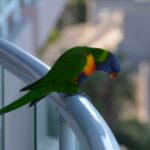 A colourful bird,
Rainbow Lorikee,
payed us a visit
on the balcony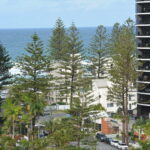 View from the balcony at Hotel Crowne Plaza, Southport
We settled and arranged for the quarantine with anti-smoking lozenges and patches, loads of instant coffee, and a hired exercise bike, cutlery/flatware and a good spirit. Be sure that we will comply with every quarantine regulation including total isolation in our room, facemask when receiving food/other items delivered outside the door as well as when relaxing on the balcony. After our release on the 11th of May life starts again……
10th of May
One day and night left of the quarantine……
We are in good health, "sweep-tests" have been taken on two occasions which proved that we are not effected by covid-19 that is, all tests showed negative results. If one doesn´t comply with doing the tests you just have to stay in quarantine for 14 more days, not an option for us be so sure……
Every other day representatives from the Queensland Government/Health Authority phoned us to make sure that we are well. We have also had calls about information of quarantine payment, about documents to be sign at check-out, preparation for our release and procedures at check-out. We´ve learned that we will be escorted by the Police from our room via the Hotel reception and then to wait outside for transport. By the way, the Hotel staff has been very effective and helpful in different ways and really tried to make our staying as pleasant as possible under the circumstances, we salute them.
The food, (which we pay for without being able to specify what we wish to have, and regardless if we eat it) including water, soft drinks, fruit juice, fruit such as apples, oranges or pears, tropical fruit salads, vegetables, snacks such as potato chips and cookies, is served three times a day within a fixed time frame. At breakfast we have been served yoghurt and cereals as well as egg and bacon, well at least eggs in one way or another. Yesterday we were served a hamburger for lunch and the day before that, the dinner was steak with mashed potatoes. We believe a dietician has put everything together to make sure that we stay healthy during the quarantine. We have in addition asked for ketchup and spicy sauce and with that the food was ok. Most of the time even better than ok. Perhaps this was too much information about the food but many of you have asked particularly about that.
Our accommodation also includes free wifi, free laundry service and assistance with deliveries from different shops such as the exercise bike, some technical equipment, food for our first days at the Boat Works. We did also receive free sim-cards from Vodafone complementary by the Hotel (or the Queensland Government?) Karin is working hard as you can see from the picture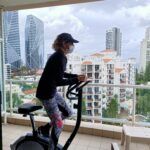 By the way, we now have found out that we have to pay 3 710 AUD for the two weeks that we both have been quarantined in room 812. That is approx. 2 400 EURO, for two persons in one room.
To sum it all up, the first five days we adapted to the situation and struggled a bit with jet lag. We finally could relax after working hard in relation to our departure from Sweden and the nervousness when it came to the mandatory PCR-tests. Surprisingly the time for how long the test has to be valid changed from 72 hours to 24 hours four days before departure from Arlanda due to fresh requirements for entering into Denmark, even if that was only transfer. We also re-packed our luggage, adjusted for storage in Peach.
The second period of five days we became organized and did a lot of preparations prior to get onboard Peach as well as to adjust to the sun and to exercise. Preparations included purchase of new batteries, spare parts to the water maker and a few other things. All delivered to the marina office at Boat Works. We read books and did crosswords, TV was no option except for the news. The channels offered was to say at least lousy. A couple of hours per day we made plans for our sailing, checking up sea charts, weather channels, Governmental restrictions etc. There is also information about the conditions due to the Covid-19 in South East Asia which we take interest in, these conditions are crucial once we reach Thursday Islands or Darwin before we set sail towards Indonesia.
The last couple of days we have felt impatience as well as anticipation. We look very much forward to live boat life again even if the covid-19 as such distress us a bit. We have to accept the circumstances even if it means new obstacles as well as higher costs than we have anticipated. But one thing at a time. There are several options for our continuous sailing and at one point we will have to decide about all of that, but now, we just have to make Peach ready for sailing again.
Fair Winds, Göran and Karin, very soon onboard on Peach