Leaving Panama
Planning, supplies etc. for the journey across the Pacific to French Polynesia was carried out at Vista Mar marina on the pacific coast of Panama. The marina had the facilities we needed such as drinking water, electricity, possibility to get propane via service by marina personnel who was very helpful in all matters. The berthing fee was acceptable and the lowest so far in Panama which might relate to the rather difficult swell and strong winds coming down from the high mountains. Anyway, it was a fair place for taking off. The nearest village/city, Coronado, had several supermarkets why getting supplies was easy enough.
Bearing in mind that the growth of barnacles on the hull was quick we decided to pass Isla las Perlas on our way just to be able to clean the hull, again. That was indeed necessary. Our propeller was hidden behind barnacles and the hull looked awful. We need new antifouling rather sooner than later not to be forced to scrape the hull every 3-4 week. The antifouling we put on in Sweden before we left is obviously of no concern to the barnacles in this part of the world. Moreover, next time we will mix approx. ½ kg Cayenne pepper with 5 L paint which will do the trick according to the "expertise" we have talked to. To get that much pepper is another question which we will get back to.
We left the Perlas at the end of February and had the plan to reach Galapagos after 6-8 days to fill up with diesel which we knew we would have to. We carry 575 L in total which should be ok for Galapagos assuming we got wind as well. The distance from Panama to Galapagos is approx. 860 nm and the distance from the Ecuador coast, around 550 nm.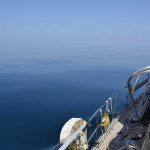 We got 10-12 kn wind a couple of hours during 5-6 days which was not enough of course. Being in the InterTropical Convergence Zone (ITCZ) (doldrums) we knew this was likely to happen and that the engine probably would have to be engaged. We could of course have waited in Vista Mar for enough wind to push us out of the Panama Bay but we were tired of waiting and eager to start our crossing.
After being on the move for a week, we decided not to continue towards Galapagos when the weather forecast continued to predict no wind at all between our position and Galapagos. Instead we sat course towards Salinas in Ecuador, calculating with that we had enough diesel to reach Salinas. Our course took us 150 nm from the South American coast to stay clear from the northbound Humboldt Current which could be strong. We had also identified some other places along the coast where we knew we could get diesel if the need would arise. Please remember that along the coast of Ecuador, right on the equator, there is no wind and, has never been…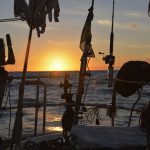 We reached Salinas just before lunch time a beautiful day, contacted the marina, got our diesel and took off without the need for formalities of checking into the country. The whole procedure took just under two hours. Perfect, we were in business again. The course was set for the Marquesas although we were not yet clear on Marquesas or directly to Tahiti. On our route in and out of Salinas we had to be on full alert due to a large number of local fishing boats with floating fishing nets during the night as much as up to 100 nm from the coast. The boats were lying still without any lights. When we got close they suddenly turned on their lights to alert us to stay clear. We had to do some quick turns to avoid some nets.
Our plan was to go ( not yet any wind) southwest to the 6th latitude where the north westerly trade wind together with the South Equatorial Current should carry us all the way to French Polynesia. We did hit the trade wind although the plan we had decided upon not fully worked. why, see next article "72 hours on Galapagos".