Bonaire – a step on the way
Position: 120 09.87 N / 680 17.09 W
It took three and a half day and night to sail from Grenada to Bonaire. We had practically no wind the first day which was unexpected but we were still under sail though. The wind picked up and for two days we had great sailing at 20 kn. The last night however it really started to get windy with large waves. We had 35 kn as the most. We «surfed» around the Southern tip of the island early in the morning, just before daylight, and Peach arrived in Kralendijk soon after. It was still easy sailing with the help of the lights from the island and good wind angle. We moved pretty fast though.
Unfortunately all mooring buoys were occupied in Bonaire and had been so for the last five weeks we were told by the Harbor Master. According to the Marina Office we could not expect to get a buoy why we had to berth in one of the two marinas. We decided to dock in Harbour Village Marina when the wind was still strong and the marina was fairly sheltered. We would have loved to anchor but that is forbidden around the island which we knew about but annoying of course. All sailors on-route to Bonaire should be aware of the difficulties to get a buoy and take note of that a buoy cannot be reserved, "first come first serve" according to the Harbor Villages Marinas rules and regulations.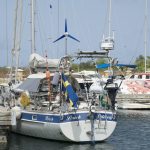 We hitchhiked to and from the city center several times due to some problems with the local sim-card which did not work properly. The walk to the city center was approx. 30 minutes. Those who stopped and took us on board were very kind and gave us lot of information on practical issues. We have also had nice talks with people around here and everybody has been very helpful.
The evenings in the marina offered a lot of mosquitos why we had to cover all openings very carefully to avoid getting bitten during our sleep. At the same time, good preparation for coming mosquito areas in other places.

The island has a strong environmental legislation and we assume the prohibition to anchor is for the protection of the coral reefs. Bonaire is known for excellent diving and snorkeling. Be aware of that diving as well as snorkeling requires a special permit which can be obtained in a dive shop. It is not permitted to dive on your own, only in company with a guide.
The town, we was told, has been really developed the last five years and is now a very charming place especially along the waterfront. It is easy to understand the large number of cruising ships visiting Bonaire which also goes for those who decide to stop here and make a living.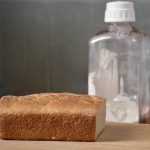 Right now we are making bread and preparing food. We have decided to
keep the freezer on, 18 liter only, for some more time. It seems that we have enough electricity via the solar panels and the wind turbine. Ice cubes are otherwise a luxury here!
We think that next stop might be Curacao, 42 nm from Bonaire, and if so, we plan to anchor in Spanish Bay if possible. But no decision taken so far.