Peach sailed out from Arlie Beach, on the 3 of July, destination Darwin approx. 1 500 nm. Finally we had a working AIS which we purchased online and had delivered to Airlie Beach.

We had heard that Cairns was the last port for supplies for further sailing north and we arrived there on the 9 of July. On our way to Cairns we anchored a few nights in some beautiful spots and did night sailing as well when we wished to move on to Darwin to get to Indonesia well before the Northwest monsoon.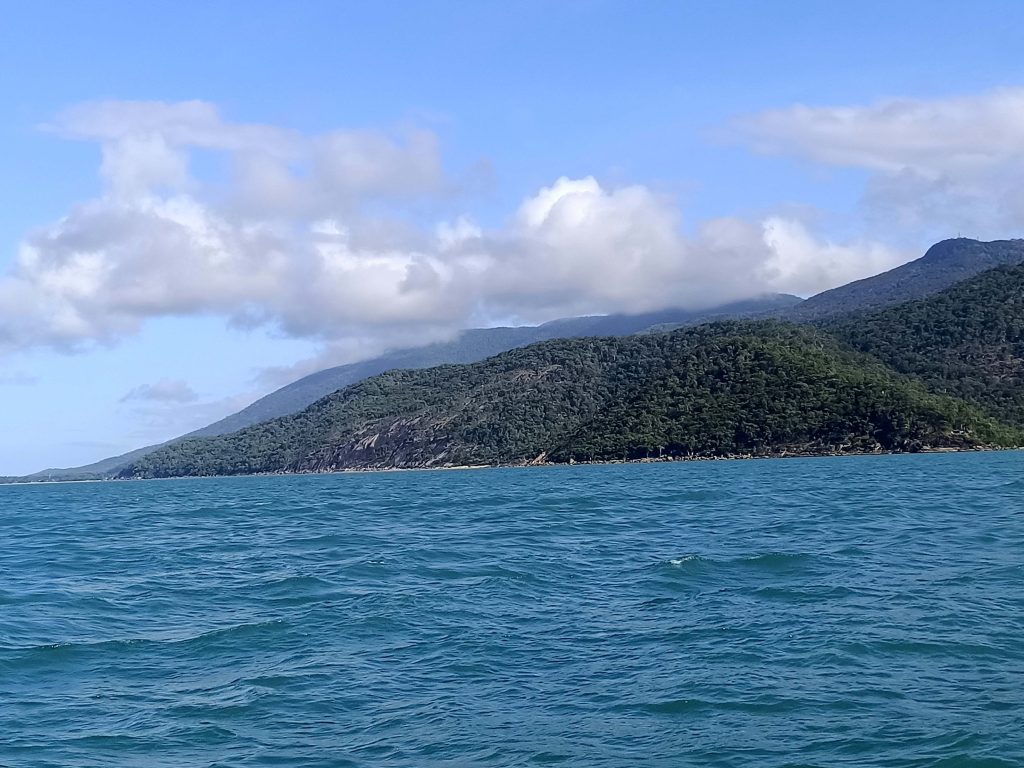 We stayed in Cairns for a few days, only to make sure that we had all we needed such as fuel, water and food.
From Cairns we decided to sail during day time and dropped anchor at Double Island, Low Islets, Hope Islands, Cape Flattery, Howick Island, Bathurst Bay, Stanley Island part of Flinder's Group, Morris island, Night Island where we saw our first Crocodile, Portland Road, Margaret Bay and the long journey to Escape River where we met John and Andrea on Bojangles and Tony on Janner 2 properly. A few crocks in the river! We sailed together towards Albany passage in where we made 3-4 kn extra. After the passage we split up and Peach went straight to Horn Island in the middle of Torres Strait, anchored and stayed a few days looking at the crocks on the beach a stone-throw from Peach. Guess if we took a swim? We were also in need for supplies which we took care of.
The trip up the Australian coast along the Great Barrier Reef was actually a disappointment when the visibility never went beyond 2 meters and the water colour was yellowish and no swimming due to crocs everywhere. We are however certain that the water quality was better closer to the outer islands. In the picture below the water is clear which did not happen that often. The picture is taken of Noble Island on our way towards Stanley Island.

From Horn Island it was time to cross the Arafura Sea towards Wessel Islands, a passage of approx. 350 miles. We started early in the morning hoping the tidal current would give some help. It did not for a couple of hours but then we has good speed. We had planned to stay over-night at Red Island but were forced to sail a little bit south of the island due to tricky winds. On our way we sailed between Prince of Wales Island and Zuna Island where we reach 10 kn at the most. A spectacular ride with the current.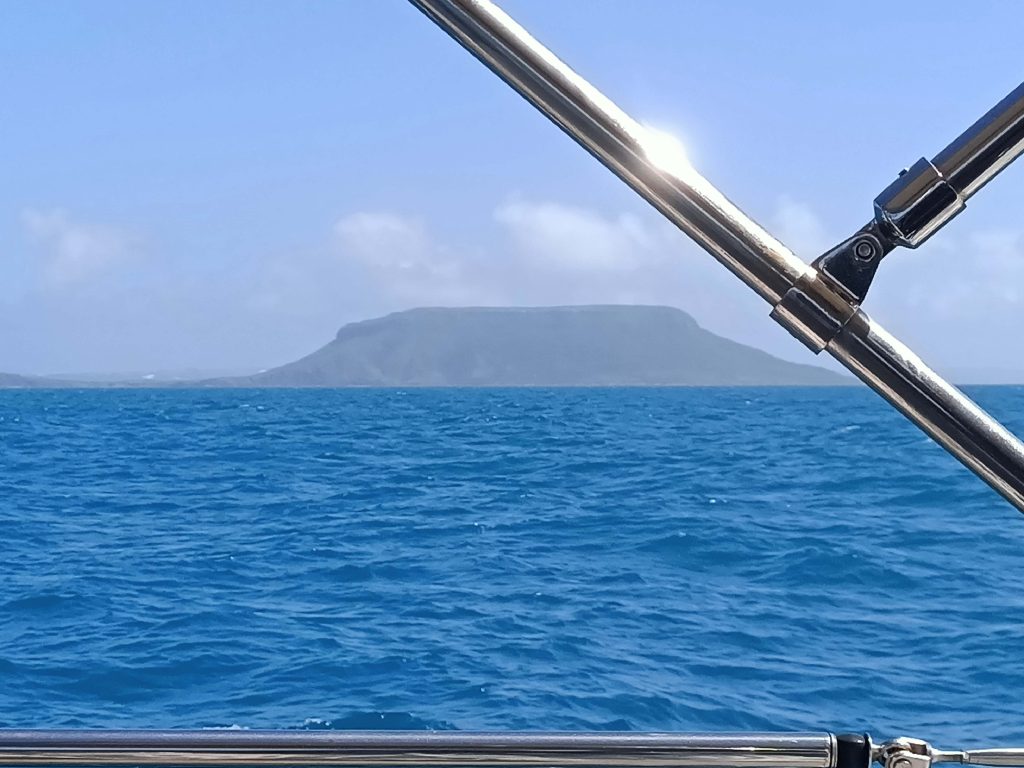 We took of towards Wessel Island having 18-20 knots which changed after a couple of miles to 26-28 kn due to a lot of winds under some heavy rain clouds. During our crossing we had 2-4 m waves and a lot of wind, thank god from behind, and it took 3 days to do the crossing. Approaching Wessel Island we passed south of Bromby Islet and after that we had really calm winds which was a relief after those 3 days at sea. We went down the Malay Road to Astelle Island where we dropped anchor. Moved the next day up the Brown Strait to Guruliya Bay, the last anchorage before took on the last crossing of Arafura Bay to South Goulburn Island. The crossing took around 2 days.
Again it was nice with some rest even if this crossing was not as bad as the former, only 22 kn as most. We had decided upon a specific anchorage before we planned to do the last leg to Darwin when it became really important to calculate tidal streams and take off at the optional time to get the current with us all the way down to Darwin. Anyway, after South Goulburn we stayed one night at Valentia Island and had a rolling night, continued up the Bowen Strait to Black Point, anchored and finally reached Alcaro Bay where we also anchored and did some calculations. Took off at 4 pm the next day and had a smooth journey to Darwin and approached Cullen Bay Marina at 10 am on 11 August.
Life in Cullen Bay Marina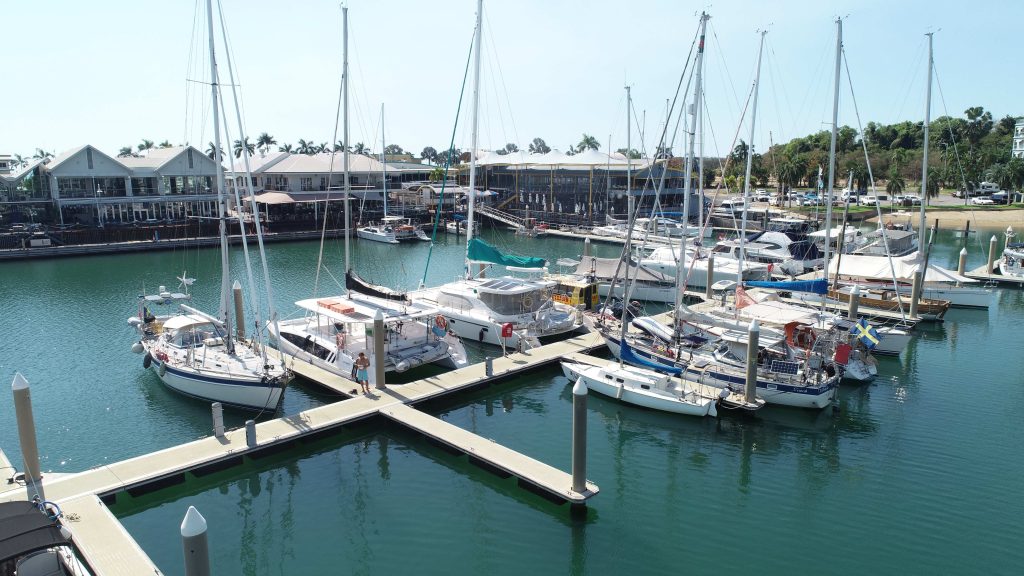 We had some hope to stay in Cullen Bay 2 weeks at the most. Unfortunately this was not to be when the Indonesian border closed due to too many Covid cases. We were stuck in Australia! However, the Marina was safe and nice but we were under-stimulated just waiting for the visa process to Indonesia to start.
Instead we did maintenance on Peach and prepared for the forthcoming sailing. We are awaiting news in regards to the visa-process everyday….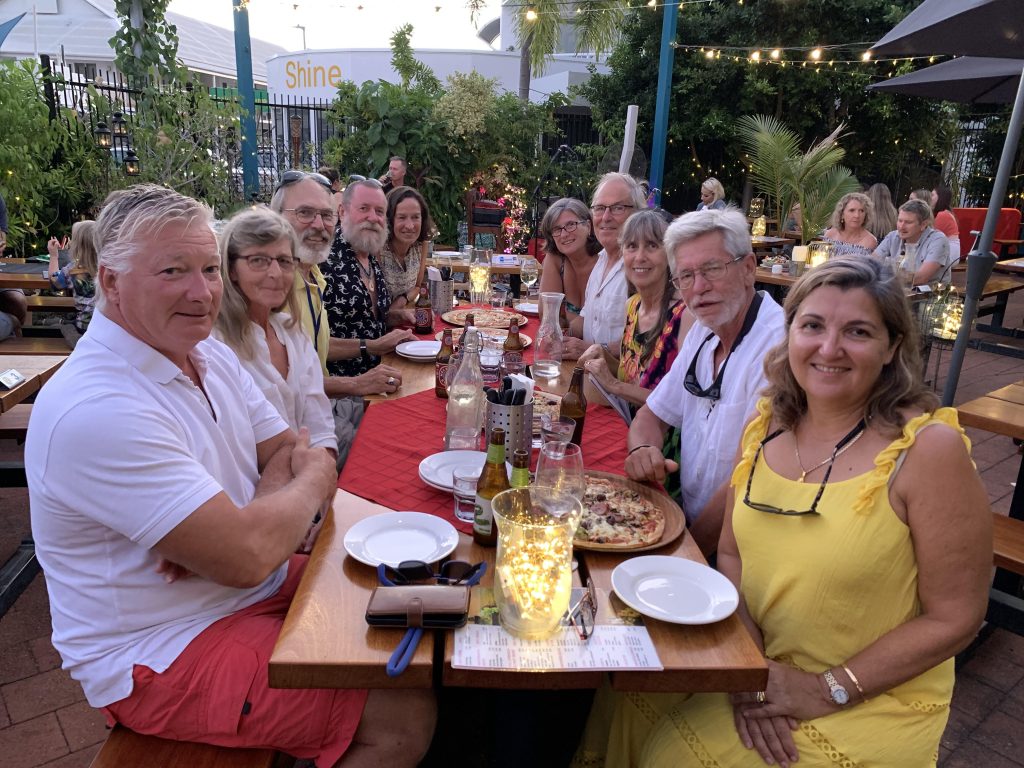 Luckily other sailing vessels were here and in the same situation as we and we exchange information on a daily basis and did our best to inspire each other to work on. For all of us it has been many days to reach Darwin and at the same time we all want to leave for Indonesia. It turned out to be 6 weeks before the visa processing could start through our agent/sponsor based in Indonesia. The rainy season got closer and closer and the humidity became annoying. Anyway, the visa process had started and we calculated to be on our way after 7-10 days.
About Covid-19
Australia have had lock-downs at different hot spots and one lock-down in Darwin, for three days, since we arrived. At that time we managed to do some errands at a hard ware store and had 20 minutes to end what we were doing before the hard ware store closed. We got a lift by a private person back to the marina when no taxis were available. We are very grateful to Rachel, the nurse, who helped us that day. During our sailing from Arlie Beach to Darwin we passed the boarder to the Northern Territory from Queensland and before entering we had to fill in a form and pre-announce our arrival. No big deal if it was not for the fact that there is hardly no internet-connection along the coast. Good planning is absolutely necessary.
Next leg is Darwin to Kupang, Indonesia.