Tahiti next
After 72 hours on Galapagos we left on a Sunday morning for the Pacific crossing. We had discussed whether we should sail to Marquesas or directly to Tahiti even if Tahiti would mean an extra week of sailing. We decided on Tahiti! We agreed on that our first waypoint would be to go south of the 6th parallel in order to catch the trade wind coming from southeast. We set a course of approx. 200 degrees. We actually needed to go close to the 7th parallel to catch the wind we were looking for. We were lucky to get wind most of the way south why we needed to use our engine for about 24 hours only. Fortunately we had, this time, the current with us and well in the trade wind we had used surprisingly little fuel. The distance we sailed from Galapagos to where we turned west was around 450 miles which meant that we only (!) had 3300 miles left to Tahiti. From the waypoint we went west and slowly moved south to the 18th parallel which actually means that we moved south 660 miles while going west.
Well settled in the wind we looked ahead to an easy sailing, although a long one, but it turned out that the wind was not stable and from day to day it changed direction as well as speed. Using the whisker pole (sometimes both of them) as we always do when crossing an ocean, it turned out to be a lot of work changing the set up frequently. Despite this the sailing was smooth and strong winds only accord when we had rain showers then the wind speed reached 34 knots several times and 42 knots at one occasion. Many days we sailed in 6-14 knots which is not really enough for Peach being heavy as she is only doing 4 kn in that wind. We had the best sailing conditions when the wind stayed between 18-24 knots which happened from time to time.
You may wonder how it is to be at sea for four weeks which was the time it took to reach Tahiti. Probably normal considering it take three weeks to reach Marquesas from Galapagos. Well, the days pass very quickly. We are comfortable with four hour watches which works well for us. It is a lot of sleeping of course and especially to catch up when something needs to be done in the middle of the night when both of us needs to be awake. Remember the whisker poles and the change of sail set-up. After 3-4 days the routine is there and the days just go on. Each day we downloaded grib files via our SSB radio to check the weather forecast. We are happy with the communication system . When in Panama we subscribed to Sailmail which meant that we had 2 systems to use, Sailmail as well as Winlink which is free of charge. Both systems worked well.
Annoying birds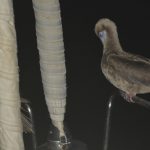 We had some hope to see whales on the way but certainly not to go to war against big backed gulls. Two of them insisted to park every night on our davits or on the pull pit. They moved around a little after we had started to yell at them but they always came back and reclaimed their seats. We did not want to hurt them but to scare them off. We had tried to scare them by yelling, waving, producing high sounds and rushing towards them but nothing helped until we made a small bundle of a tiny line which we threw close to them. They did not like that and left, thank goodness. If you wonder why we were eager to get rid of them just imagine how much they shit during a night. Took us an eternity to clean the deck afterwards. We actually touched one of them once and the bird looked at us like "what in heavens name are you doing…" but did not move.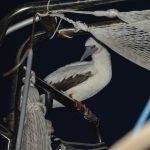 A couple of days later another sea bird arrived, a gannet, and settled down on a davit. The bird was big but had nice colors and we let him/she rest during the night. A big mistake! Took a long time to clean the deck, again.
Well, that was the only wildlife we saw during the journey across the Pacific. We kept looking for other yachts, merchant ships or fishing boats but during the four weeks we saw only one boat rather close one morning which was a fishing boat, not actually fishing. The first yacht we came across was not until we reached the Tuamotu Archipelago approx. 200 miles from Tahiti. From there we just had around two days of sailing left and we were looking forward to set foot on land again. When Tahiti emerged in the distance we were happy that we had made it across a big part of the Pacific Ocean without any other problems than those in relation to our 72 hours on Galapagos and related matters.
Finally at rest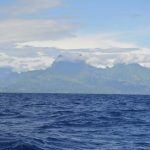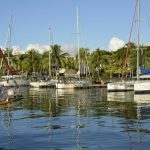 On Tahiti we are staying in Papetee Marina preparing for the next leg. The location of the marina is at the city water front with a nice view of the city. When doing the clearance, one has to visit the customs and the Port captain in the city area. After that the immigration office at the airport has to be visited. All visits are expected to be done on the day of arrival. All services are available such as gas, fuel, food etc. why it is a good place to be. After a couple of weeks in the marina we are now longing for being at anchor with the possibility to swim, do some snorkeling and just be in an environment with crystal clear water.