72 hours on Galapagos Islands
It felt nice to finally be in the trade wind area. Suddenly we had wind of 18-20 kn compared to nothing and we looked forward to some nice sailing on the Pacific to French Polynesia. The trick was to slowly move south to the 10th latitude covering a distance of approx. 2000 miles.
Once in the trade wind we needed to get into our daily routine bearing in mind we had at least three weeks of sailing before landfall. One important routine is to produce water on a regular basis. We make around 60-70 L water/hour and in order to keep the membrane in good shape we had decided to run the system every third day. The electric motor for the system require up to 40 amps why our main engine needs to be engaged when doing this.
So, in our first trade wind day, the water system was turned on and everything ran smoothly until the engine suddenly stopped. We tried to restart but nothing happened and we could not get the engine running again. Not good at all being 2000 miles from the Marquesas, 750 miles from Ecuador and 350 miles south of Galapagos. We looked into the problem. Cleaned all that had to do with the fuel system, changed filters and still no response. We needed to make a decision. Without a functioning engine we could not produce water or recharge our batteries fully when the solar panels and our wind generator could not be 100% trusted depending on the type of weather, wind speed and cloud cover.
The best course of action would be to try to reach the Galapagos Islands for engine repair. The islands were 350 miles to the north and we knew that we would, again, get in to the ITCZ as well as face strong current against us. Nevertheless, this was what we had to do. We had plenty of food why this was not an issue. Our problem, if unlucky, would be the water supply and battery power to last especially the latter if the sun decided to hide behind clouds.
To make a long story short, it took us 13 days to cover 350 miles.
Before we turned north we contacted Sweden Rescue (JRCC) and our insurance company to make them aware of our situation would we be forced to leave the boat due to lack of water and electric power not being able to run e.g. navigation lights. Sweden Rescue whom were very supporting and helpful, provided us with the contact information to the corresponding services in Peru and Ecuador. They also helped us with informing the Peru officials when we at that time were within their area of responsibility. The recommendation from JRCC as well as from MRCC in Peru was to turn on our Epirb should we run out of water and electric power. It felt good to be in contact with JRCC and MRCC via our SSB radio (emails) and our Sat phone.
We turned off the freezer of course as well as the fridge and used only the equipment necessary for navigation and this only part of the time.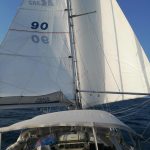 On our struggle towards Galapagos it happened that we sailed 20 miles in very weak wind during some days and drifted backwards 15 miles during the nights when the wind disappeared. The current against us was also strong, 1-1.5 kn. Very annoying to say the least. It also seemed that the Dorado's were aware of our situation and our lack of interest to fish when they kept us company around Peach.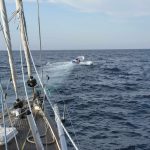 After 9 days we still had 74 miles to sail and it was impossible to get further north due to lack of wind and the strong current against us. In contact with the Ecuador coastguard they promised to tow us the rest of the way. We believe that JRCC in Sweden assisted us to convince the coastguard that we needed towing to prevent us for ending up as the forever drifting Swedes. It was a relief seeing the coastguard ship arrive late in the afternoon. They towed us at a speed of 9 kn to the closest island which was Floreana (Isla Santa Maria) were we arrived late in the evening. They helped us to move into an anchor position where we lay still for three days awaiting further towing by a private company to the main island, Isla Santa Cruz, where help with the engine could be found. The distance to Santa Cruz was 34 miles. The cost for the 34 miles of towing ended at 520 US dollar.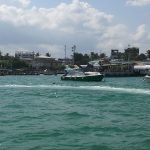 72 hours on Galapagos started with a two hour inspection of us and Peach. We explained the circumstances, presented our logbook and the route as displayed on our plotter, Peach was also carefully inspected. Pictures were taken of the relevant pages in the logbook, e.g. the day the engine broke down and the day we stopped at Salinas in Ecuador to get diesel. By using the 72 hour stop, claiming an emergency, we did not have to pay all the fees they charge sailors with visiting the islands.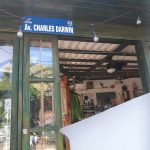 The Galapagos officials were satisfied and our 72 hour stay begun with a lot of work to get someone to repair the engine and take care of a million other matters that needed to be done before it was time to continue our journey. Luckily the engine was repaired quickly and the problem was a faulty Solenide (stop magnet) connected to the injector pump. We did not carry a spare for that problem. Other matters we dealt with were,
Get a local sim-card for internet access
Fill up the diesel tank and our extra diesel containers
Fill up the water tank with drinking water when running our water-maker where we had anchored was not an option
Use a laundry service in the village
Struggle with bank transfer to get money for paying the towing
Engage two workers to scrape the hull before leaving
Buy supplies, fresh food and prepare the food accordingly.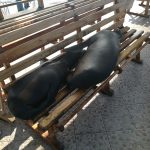 All this was done during the weekend. We arrived on Friday and was suppose to leave on Sunday before lunch time. In addition, it was an election day on Sunday why sale of liquor was forbidden why we could not get some decent bottle of wine. Maybe that was ok when the prices of wine was through the roof.
Anyway, we did all these things and were ready to leave on Sunday. The island and especially the village was really nice with nice people but very high prices on basically everything.
On top of everything we had the chance to see some of the wild life such as the famous lizards, turtles and some birds special for the Galapagos. The question however is whether the sea lions can be regarded as wild life…….occupying the side-walks and benches.
Finally after 72 hours, we left at 10 am on Sunday morning after some hard work and a lot of US dollar left behind. At last we were on our way to French Polynesia.